Gluten Free News: September 2017
Euromonitor Report: Gluten-free trend fuels private-label pastries growth in US | Bakery and Snacks  Sept 13, 2017
Strong U.S. consumer interest in natural and gluten-free products has led to a resurgence of the bakery section — especially private-label pastries — but the growth of the frozen baked goods is expected to eventually surpass pastries, according to a new report by Euromonitor International.
Ingredion launches range of clean label tapioca flours | Bakery and Snacks  Sept 14, 2017
Food scientists at Ingredion Incorporated's Idea Labs have developed a range of multi-functional tapioca flours, based on more than two decades of research to understand the role tapioca can play in clean label applications.
Gluten-Free Products – Market: Global Market by Technique & Data Validation, Analysis and Forecast to 2022 | ReportsWeb.com  Sept 14, 2017
The global gluten-free products market is estimated at $4.63 billion in 2015 and is expected to reach $9.24 billion by 2022 growing at a CAGR of 11.8% from 2015 to 2022. The rising occurrence of celiac disease, diabetes, obesity, other diagnosed food intolerances, and increasing consumer awareness to improve these conditions extended the market to manufacture modified allergen-free products. Nutritional values, digestive health reasons, weight management are some of the factors that are driving the gluten-free products market during the forecast period. Lack of awareness in developing regions such as Asia-Pacific and Latin America hampers the market.
Ice cravings could be a sign of celiac disease | The Seattle Times  Sept 17, 2017
A craving for nonfood substances such as ice, cornstarch or clay is called "pica." Anemia brought on by iron deficiency can trigger this condition. And anemia can be caused by celiac disease. People with unexplained anemia and ice cravings should be tested for celiac disease. They also should be checked for other nutritional deficiencies.
Beans Add Healthy Fiber And Protein To Gluten-Free Pastas | NPR News  Sept 18, 2017
New research suggests that gluten-free pasta might have a downside: It may increase the risk of diabetes or pre-diabetes. Bean-based pasta could be the answer. So, now companies such as Tolerant, Banza, Ancient Harvest (with their POW! line), and Explore are producing high-protein, high-fiber products made from legumes such as orange and green lentils, black beans, and chickpeas.
Schär claims UK firsts with new gluten-free products | Just-Food  Sept 19, 2017
Dr Schär is making its debut into the UK bakery mix category with the launch of the Mix It! Universal, an all-purpose flour mix. The company says the mix is the first gluten-free, all-purpose flour of its kind to launch in UK supermarkets, although it is already available on the Continent. The latest launches follow previous bakery and bread releases seen from the brand in the first half of the year and the recent launch of gluten-free lines including pain au chocolat and ciabatta rolls.
Idaho distillery gluten-free vodkas and whiskey offer taste of the upper West | The Washington Times  Sept 20, 2017
Grand Teton Distillery of Driggs, Idaho — but 35 miles from its namesake — is producing gluten-free beverages that are both experimental and befitting of the hardiness of the upper West.
Vegan, dairy free and gluten free Baileys launched in the UK | Echo News  Sept 20, 2017
Popular drink Baileys has announced it is now offering a version suitable for non-dairy drinkers. The new drink has been available in the U.S. for a while now, but the company has confirmed it is now available in Whole Foods stores across the UK.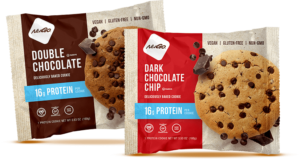 NuGu Nutrition unveils vegan and gluten-free pea cookie range | FoodBev Media  Sept 21, 2017
NuGo Nutrition has launched a new range of high-protein vegan pea cookies in the U.S. as it aims to satisfy consumer demand for plant-based treats. Non-GMO and gluten-free, the cookies are available in four flavors: peanut butter chocolate, double chocolate, oatmeal raisin and dark chocolate chip.
Top Chef Winner Harold Dieterle Returns To NYC Dining With Gluten-Free Italian | Gothamist  Sept 21, 2017
Distinguished Top Chef season one winner Harold Dieterle is returning to the Big Apple with a new gluten-free Italian restaurant. Dieterle is the consulting chef at the new Tali Restaurant, located in Kips Bay on the corner of Lexington Avenue and 26th Street.
Organic gluten-free oat mill is the first of its kind in Ireland | Laois Nationalist  Sept 21, 2017
Vicarstown can proudly boast that it has the first-ever organic gluten-free oat mill in the country. Beef and tillage farmer Kevin Scully has been growing organic oats for the past number of years to feed his organic animals at Merrymount in Vicarstown. Six months ago Mill Organic Gluten-Free Oats product — for human consumption — was launched on the market.
New Centre Hall shop specializes in gluten-free goodies | Centre Daily Times  Sept 22, 2017
The new Centre Hall business, at 409 S. Pennsylvania Ave., is where the Valley Girl herself (Penns Valley, that is) will have a full display case of freshly baked gluten-free goodies, in addition to a coffee shop. With the new bakery, Cowher is also able to continue making custom cakes (with and without gluten) and hopes to fill a void in the area.